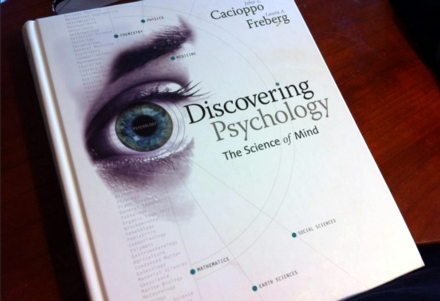 John Cacioppo's and my new textbook! (Click on the picture to read more)
Here is what I am reading today:
""This is the first experimental evidence that fetal exposure to radiofrequency radiation from cellular telephones does in fact affect adult behavior," said senior author Hugh S. Taylor, M.D., professor and chief of the Division of Reproductive Endocrinology and Infertility in the Department of Obstetrics, Gynecology & Reproductive Sciences."
"If there's supposed to be a stigma attached to living with mom and dad through one's late twenties or early thirties, today's "boomerang generation" didn't get that memo. Among the three-in-ten young adults ages 25 to 34 (29%) who've been in that situation during the rough economy of recent years, large majorities say they're satisfied with their living arrangements (78%) and upbeat about their future finances (77%)."
"The administered doses of MEHP, the chemical that results when animals metabolize the industrial phthalate DEHP, were much higher than any normal environmental exposure that people or animals would encounter, said Mary Hixon, assistant professor of pathology and laboratory medicine (research) in The Warren Alpert Medical School of Brown University and a study co-author.
"For these doses, you'd have to be eating the plastic or drinking the plastic," she said. "The real risk is probably minimal for most people."
But when toxicologists set out to determine the effect of a chemical on an organism, they often start with atypically high doses and work their way down to the levels where any adverse effects disappear. Until now, no one had done such a study on the effects of expo"
"The UCSF-led team made its discovery by studying the impact of smoke on human embryonic stem cellsas they differentiated, or specialized into various cell types, in the culture dish.
They determined that both nicotine and non-nicotine components of tobacco smoke impede the cells from specializing into a broad range of cell types, including those of the blood, heart, musculoskeletal systems and brain."
"According to research at the Alcohol and Substance Use Research Institute at the University of South Florida, alcohol use by college students follows seasonal patterns.
Consumption peaks during holidays, such as Thanksgiving and New Year's, with the biggest peak of all being spring break week.
"Spring break is a holiday defined by drinking," said Richard Reich, a researcher at the institute and assistant professor of psychology at USF Sarasota-Manatee."