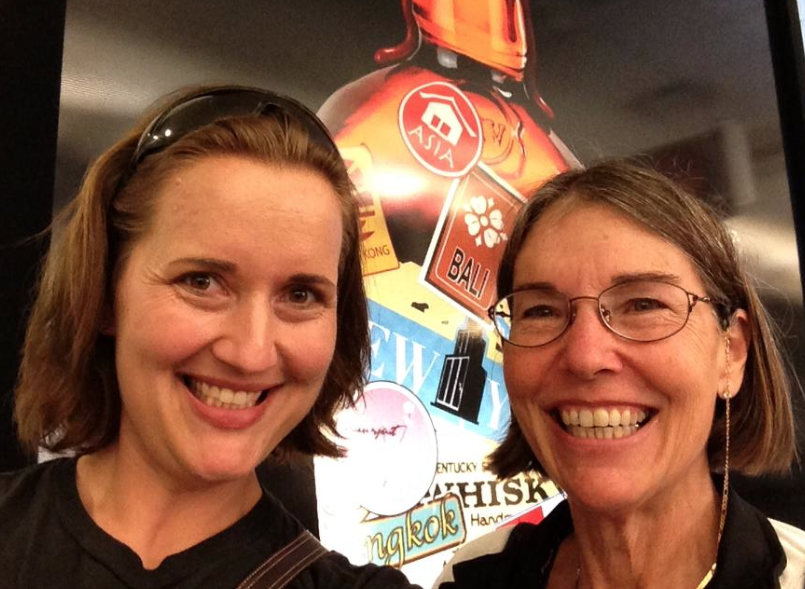 Visiting with our daughter Karen. I had a chance to see how she teaches Social Media at the University of Louisville, see the 8th ranked Cardinals win at football and actually place some bets on the horses at Churchill downs!
Here is what I am reading today:
""We hypothesized that sleep deprivation's impact on hunger and decision making would make for the 'perfect storm' with regard to shopping and food purchasing — leaving individuals hungrier and less capable of employing self-control and higher-level decision-making processes to avoid making impulsive, calorie-driven purchases," said first author Colin Chapman, MSc, of Uppsala University."
What would happen if these two sets of microbes got mixed up in the gut, the researchers wondered. Led by microbiologist Jeffrey Gordon and graduate student Vanessa Ridaura, the team took advantage of one of the rodents' least endearing habits: They eat each other's poop. After letting this happen, the researchers discovered that microbes from the lean twins seemed to be particularly good at taking hold in the gut ecosystems of the mice that started with obesity-associated microbes.
""The finding is a powerful example of how plastic the older brain is," said Adam Gazzaley, MD, PhD, UCSF associate professor of neurology, physiology and psychiatry and director of the Neuroscience Imaging Center. Gazzaley co-founded the company, Akili Interactive Labs, which is developing the next generation of the video game."
"What happens when you tell a lie? Set aside your ethical concerns for a moment—after all, lying is a habit we practice with astonishing dexterity and frequency, whether we realize it or not. What goes on in your brain when you willfully deceive someone? And what happens later, when you attempt to access the memory of your deceit? How you remember a lie may be impacted profoundly by how you lie, according to a new study by LSU Associate Professor Sean Lane and former graduate student Kathleen Vieria."
"In the current study, Chiara Cirelli, MD, PhD, and colleagues at the University of Wisconsin, Madison, measured gene activity in oligodendrocytes from mice that slept or were forced to stay awake. The group found that genes promoting myelin formation were turned on during sleep. In contrast, the genes implicated in cell death and the cellular stress response were turned on when the animals stayed awake.
"These findings hint at how sleep or lack of sleep might repair or damage the brain," said Mehdi Tafti, PhD, who studies sleep at the University of Lausanne in Switzerland and was not involved with this study."
"After someone betrays you, do you continue to trust the betrayer? Your answer depends on the length of the relationship, according to research by sociologist Karen Cook of Stanford University and her colleagues. The researchers found that those who have been deceived early in a relationship use regions of the brain associated with controlled, careful decision making when deciding if they should continue to trust the person who deceived them. However, those betrayed later in a relationship use areas of the brain associated with automatic, habitual decision making, increasing the likelihood of forgiveness. The study appears in the Proceedings of the National Academy of Sciences."