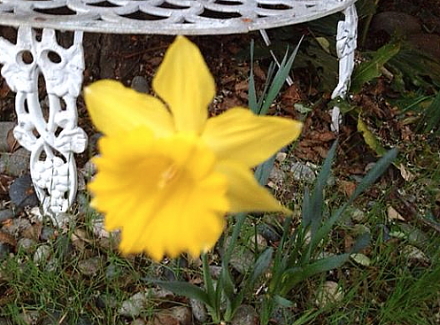 Well, spring is finally here… in California!
Here is what we are reading today:
"Google Glass, the tech giant's experimental eyewear-based computer, may soon give epidemiologists a faster and more reliable way to track infections and other diseases. Researchers report online today in ACS Nano that they've created an app that allows Google Glass wearers to snap pictures of common immunology-based diagnostic tests and immediately beam those images back to a central computer server."
"A couple weeks earlier a team of researchers led by Diana Reiss and Preston Foerder, then at City University New York, had visited Kandula's home at the National Zoo in Washington D.C. They placed sticks and sturdy cubes around the yard and strung a kind of pulley system similar to a laundry line between the roof of the elephant house and a tree…."
"For human beings, feelings of romantic love and sexual desire are often intertwined in complex ways. Recent work by neuroscientists, however, has pointed out ways these two feelings are actually different."
"Bill Watterson went back to the drawing board for one more round.
The celebrated but reclusive Calvin and Hobbes creator agreed to illustrate the movie poster for a feature-length documentary about comics titled Stripped. The film tells the story of the decline of newspapers and how it's affecting the medium of strip comics. Watterson also gave a rare audio interview for the film."
"Professors Pradeep G. Bhide and Jinmin Zhu have found evidence that ADHD associated with nicotine can be passed across generations. In other words, your child's ADHD might be an environmentally induced health condition inherited from your grandmother, who may have smoked cigarettes during pregnancy a long time ago. And the fact that you never smoked may be irrelevant for your child's ADHD."
"Bisphenol A is a chemical that is used in a wide variety of consumer products and exhibits hormone-like properties. Fetuses, infants, children or adults exposed to the chemical have been shown to exhibit numerous abnormalities, including cancer, as well as reproductive, immune and brain-behavior problems."
"So the scientists turned to human embryonic stem cells. Co-authors Dr. Zev Rosenwaks, director and physician-in-chief of the Ronald O. Perelman and Claudia Cohen Center for Reproductive Medicine and director of the Stem Cell Derivation Laboratory of Weill Cornell Medical College, and Dr. Nikica Zaninovic, assistant professor of reproductive medicine, generated stem cell lines from donated embryos that tested positive for fragile X syndrome."
""One of the major problems with the nervous system is that it doesn't regenerate very well after injury," said Chay Kuo, M.D., Ph.D., the George W. Brumley assistant professor of cell biology, neurobiology and pediatrics. "Neurons don't multiply, so when they're injured, there's a loss of function. We'd like to know how to get it back.""
"The researchers were looking for these noncoding genes, Kosik continued, because as organisms become more complex through evolution, the number of these noncoding genes has greatly expanded. "But the coding genes—the ones that make proteins—have really not changed very much," he said. "The action has been in this noncoding area and what that part of the genome is doing is controlling the genes.""
"If you don't listen closely to what patients with Wernicke's aphasia are saying, you might not notice that it makes very little sense. Their speech "sounds" normal. 
Wernicke's aphasia affects comprehension, usually for both written and oral language. Patients with this condition cannot repeat sentences they hear. They can't understand what they hear. Surprisingly, they do not seem upset about their deficits."
"A new study by Professor Jeff Bowers and colleagues at the University of Bristol argues that highly selective neural representations are well suited to co-activating multiple things, such as words, objects and faces, at the same time in short-term memory."
""Phantom-limb pain is very common in amputees," said study researcher Max Ortiz Catalan, a doctoral student in biomedical engineering at Chalmers University of Technology, in Sweden. "Unfortunately, today there is no single treatment that works for everybody.""